Decorating a bedroom for one teenage boy can be difficult enough as teen boys tend to be indecisive or uninterested when it comes to decorating. Contending with two teenage boys who share a room can turn into a full-fledged cage match if the boys disagree. Talk to each of the boys separately to get an idea of what will work for both of them, such as any shared interests or colors. Toss out your own ideas if the boys seem uninterested.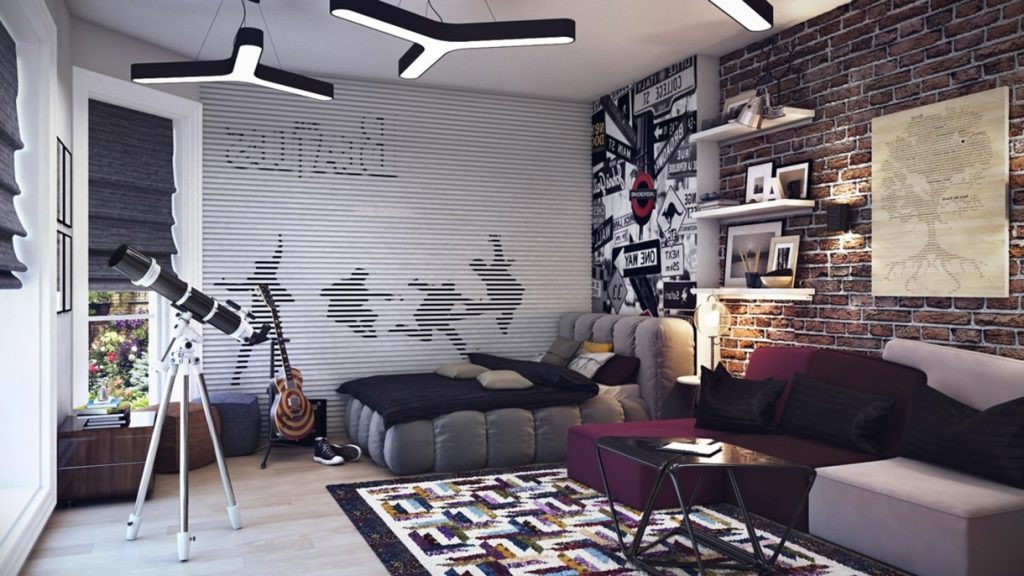 Colors and Themes
Select a color scheme or theme that works for both of the boys or two colors or themes that complement each other. Opt for a general sports theme if one of your boys loves basketball but the other loves soccer. Use an extreme sports theme if they both enjoy skateboarding. Paint the walls a neutral color, such as beige or light blue, if they like completely different things, such as if one of the boys enjoys comic books and the other likes chess. Use peel-and-stick wall decals or posters to personalize the space above each of their beds, or allow them to choose their own bedding even if it doesn't match.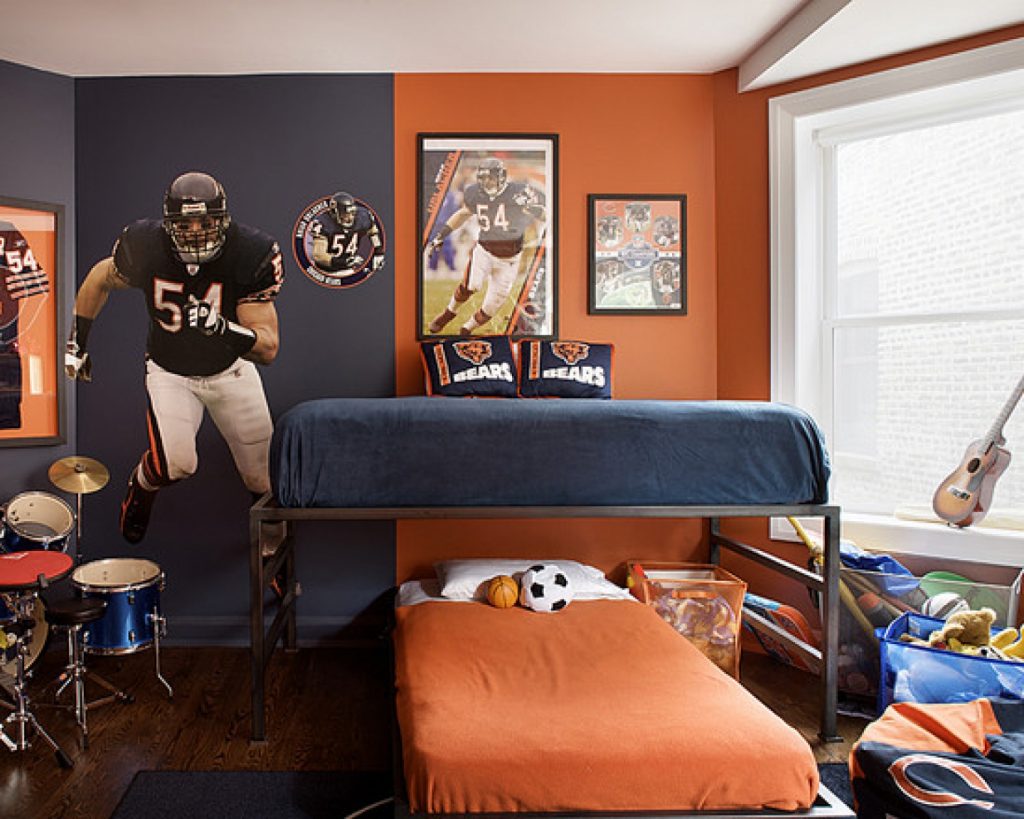 Furniture
Space-saving furniture is the best option for any teenage boy's bedroom, especially when two of them have to share. Bunk beds are a common option since both beds will take up the space of a single bed. If they won't agree on who gets which bunk, get them each their own. Loft beds will allow each of the boys to sleep on the top bunk and have his own bed, while freeing up the space underneath for a desk, shelf, seating or anything else. Each of the boys should have his own bed, though they can share a dresser, shelf, desk and seating if there isn't enough room for two pieces. For example, assign each of the boys his own drawers using a single chest by painting the drawers different colors, using special knobs or further personalizing the drawers.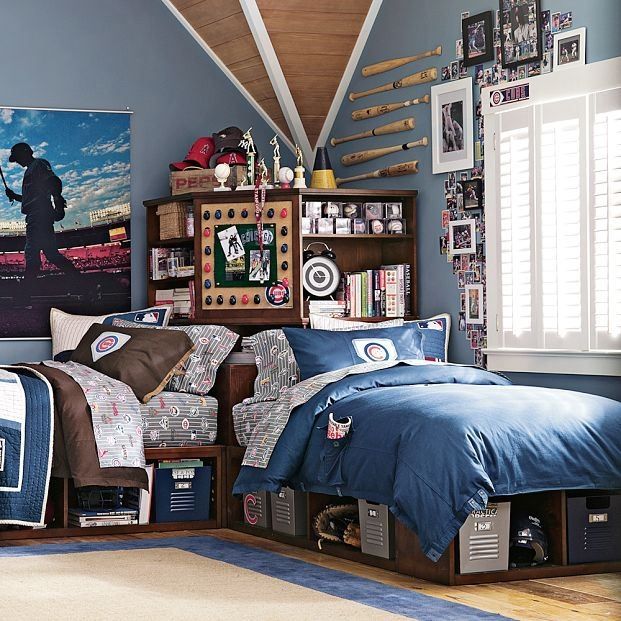 Storage and Organization
Teens tend to have more stuff then they can deal with, which can quickly overrun a bedroom, especially when you have to corral the belongings of two teenage boys. Keep the peace by giving each of the boys his own space to store and display his things. Divide the closet into two sections so each of the boys has his own area. If the closet is large enough, add drawers or shelves to store shoes, folded clothes, hats or sports equipment on the floor or on the top shelf. Use small bins or containers for their smaller items, such as CDs, chargers or handheld video games. Add a free-standing locker for each boy if it fits in with the room's theme. Padded ottomans with storage inside can hold extra blankets, hoodies or random objects while providing extra seating that can easily be pushed into the closet or an unused corner when not in use.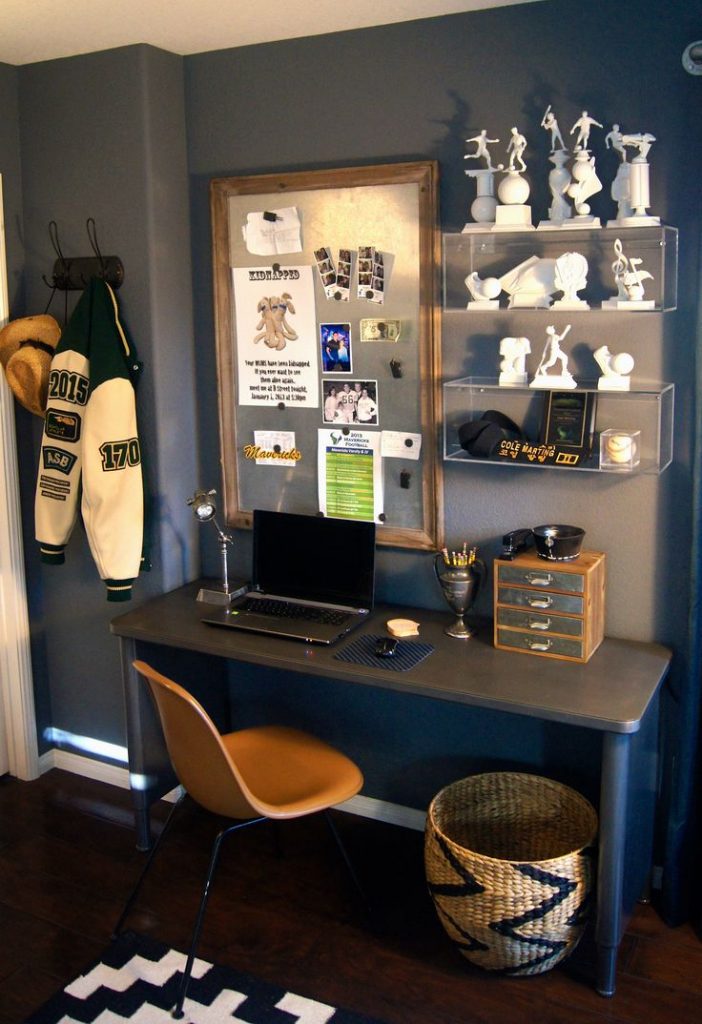 Privacy
Give each of your teens his own privacy, especially if they're opposites, like night and day. Push their beds into opposite corners, and place their dressers or shelves in the middle of the room to create an effective divider. If they get along most of the time, push their beds back-to-back so they can interact if they want or ignore each other. Folding screens or hanging a curtain in the center of the room on a track that allows the curtain to retreat are options if they only want privacy sometimes. Both teens should have a clear view of the TV or entertainment center if there is one in the room.