Wouldn't it be great if every time you stepped into your bathroom, you had the feeling of being whisked away to a tropical island or perhaps a day spa in Bali or Tahiti? With a little creativity you can give your bathroom an island makeover. Here are some tips on how to decorate your bathroom like a tropical spa.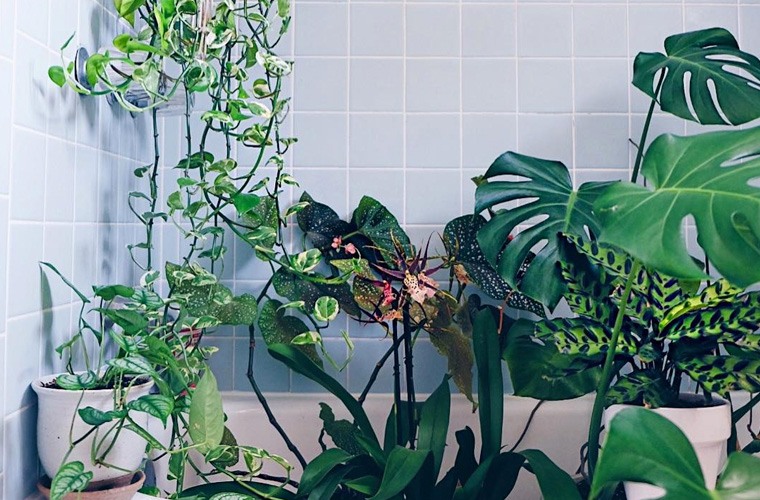 Think about your overall color scheme.
You want your bathroom colors to invoke a feeling of the tropics, like the rich green of tropical forests and the cool blues of the ocean. If you can paint the walls, pick a soothing color (preferably a shade of green or blue that comes to mind when you hear the word)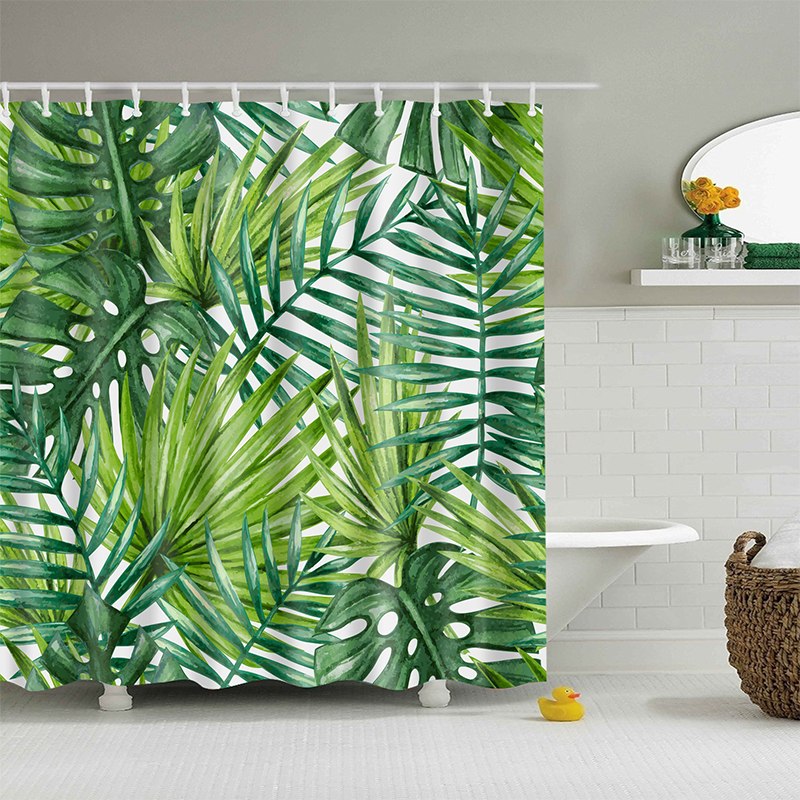 If you have a shower curtain, this can be a major part of your tropical island look.
Pick one that features tropical plants or flowers, but keep the colors subdued and inline with your overall theme. You don't want a gaudy aloha shirt look here…you are going for relaxing and easy on the eyes. If no shower curtain, don't fret, it is time to focus on the smaller decorating components. Your bath mat, bath and hand towels are a very important part of the color scheme. To create a soothing feel, look at a color wheel and choose an analogous color combination (colors that are right next to each other; like blue, blue-green and greenish-blue, etc.)
If your walls are painted, or you are planning on using a lot of color, you can get a way with white towels…they create that crisp, clean spa feeling. Also, if you have a window in your bathroom, add framing curtains in a matching color. Another great way to create a tropical look is to put in a bamboo shade (can be used in conjunction with curtains). You can even use the bamboo shade as an interesting wall hanging if you don't have a window in your bathroom.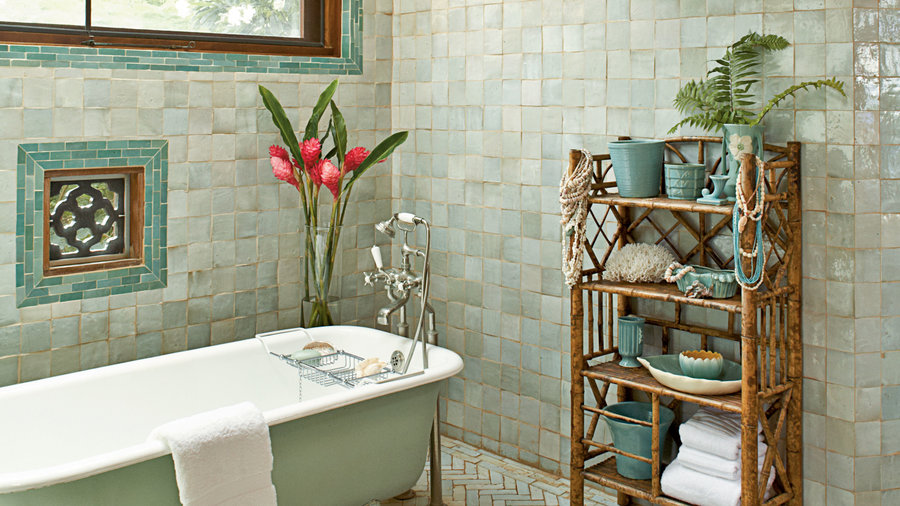 Bamboo is a great material to consider in other decorative items for you bathroom as well.
Look for items made of bamboo, rattan, or a knockoff tropical wood. These can include toothbrush holders, tissue box holders, magazine racks, storage containers, small stands, etc. You can also use interesting woven baskets to hold rolled towels and other bathroom items.
Think about adding small touches by placing things in your bathroom that remind you of a tropical island. You could fill a wooden bowl with a collection of shells or add some decorative towel hooks in the shape of tropical flowers, leaves or fish. Switch your bathroom magazines to ones that feature travel to tropical getaways or the island lifestyle and put them on display.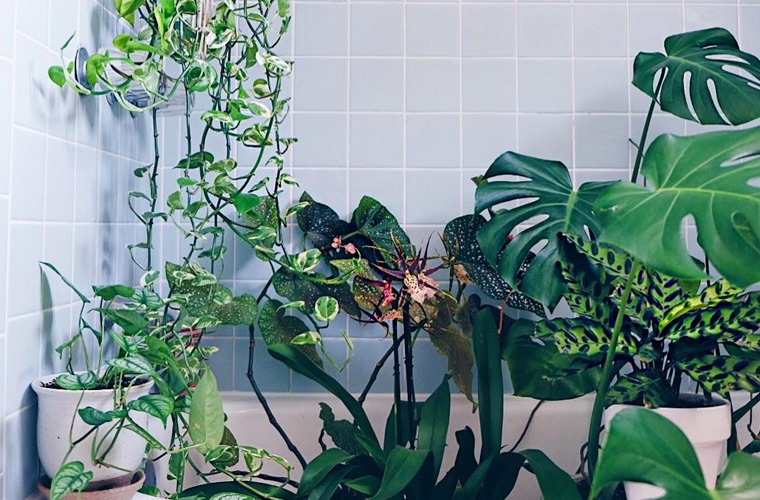 Add plants!
It is very important that you add some greenery in the form of tropical plants like palms or other broad leafed plants, orchids or hibiscus flowers. It doesn't matter if they are fake or not, but you can't have a tropical look without invoking the image of lush foliage.
If you have the wall space for it, choose some artwork that reflects a tropical island atmosphere. It could be a nice beach scene, a landscape with tropical foliage, or perhaps a Gauguin print from his Tahitian travels. Choose something that makes you feel good.
Now lets think about engaging the sense of smell to complete the tropical spa mood. Definitely put out candles, fragrance sticks and maybe an air freshener that smells like coconut and/or tropical flowers. Use soaps, lotions and shampoos with fragrances like mango, papaya, Plumeria and jasmine.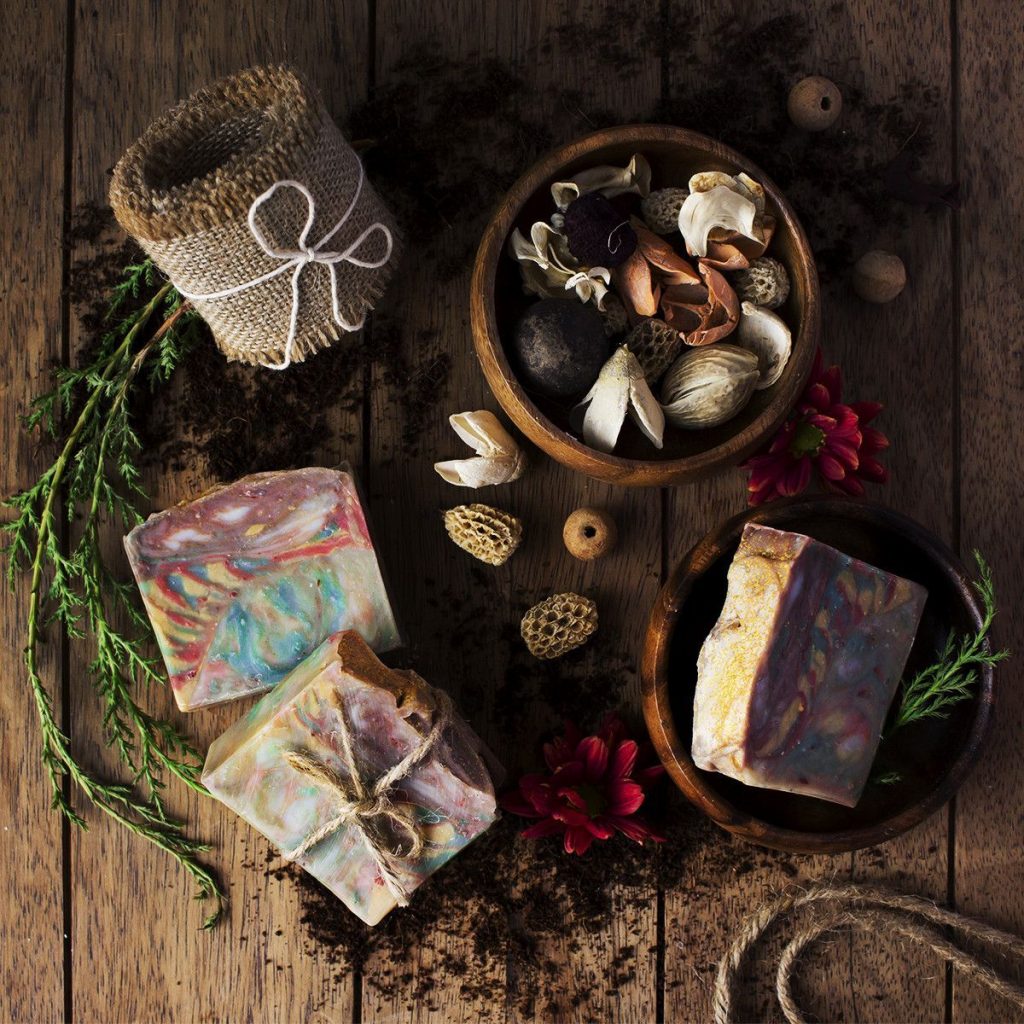 A wooden bowl of pretty, sample-sized exotic soaps is a nice touch.
The key is to be creative and mainly think about what colors and what symbols (palm leaves, coconut, woven mats) call to mind images of a tropical spa paradise. Just close your eyes, imagine what you would see in your own dream Balinese spa, and bring it to life in your bathroom! Happy decorating!